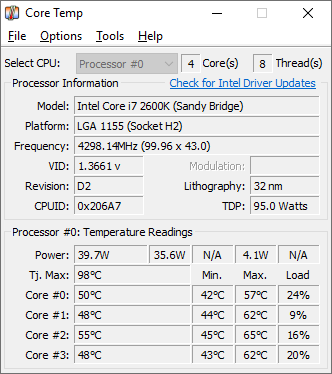 Size: 0.14 MB
eSnips.com:
Download
MediaFire:
Download
License: Freeware
Core Temp is a compact, no fuss, small footprint program to monitor
CPU temperature. The uniqueness of it is that it shows the temperature
of each individual core in a each processor in your system! You can see
in real time how the CPU temperature varies when you load your CPU.
Core Temp also has a logging feature, allowing a user to easily record
the temperature of his processor(s) over any period of time, then the
data can be easily transfered into an excel datasheet for easy
graphing. Core Temp works on Windows 2000, XP and 2003 (both 32bit and
64bit versions).
http://www.alcpu.com/CoreTemp/
DOWNLOAD:
http://www.alcpu.com/CoreTemp/CoreTemp.zip
_________________
Ovde smo samo ja i ova šaka ovih vucibatina... mala operativna jedinica!
Admin








Broj poruka

: 142


Godina

: 31


Lokacija:

: Jupa bez dna


ISP:

: SezamPro


OS:

: Windows 7


Model telefona

: Nokia 5800


Stepen Ludosti:

: Napredni, sa velikim potencijalom


Reputation :

0


Datum upisa :

25.01.2008




---
Dozvole ovog foruma:
Ne možete
odgovarati na teme u ovom forumu